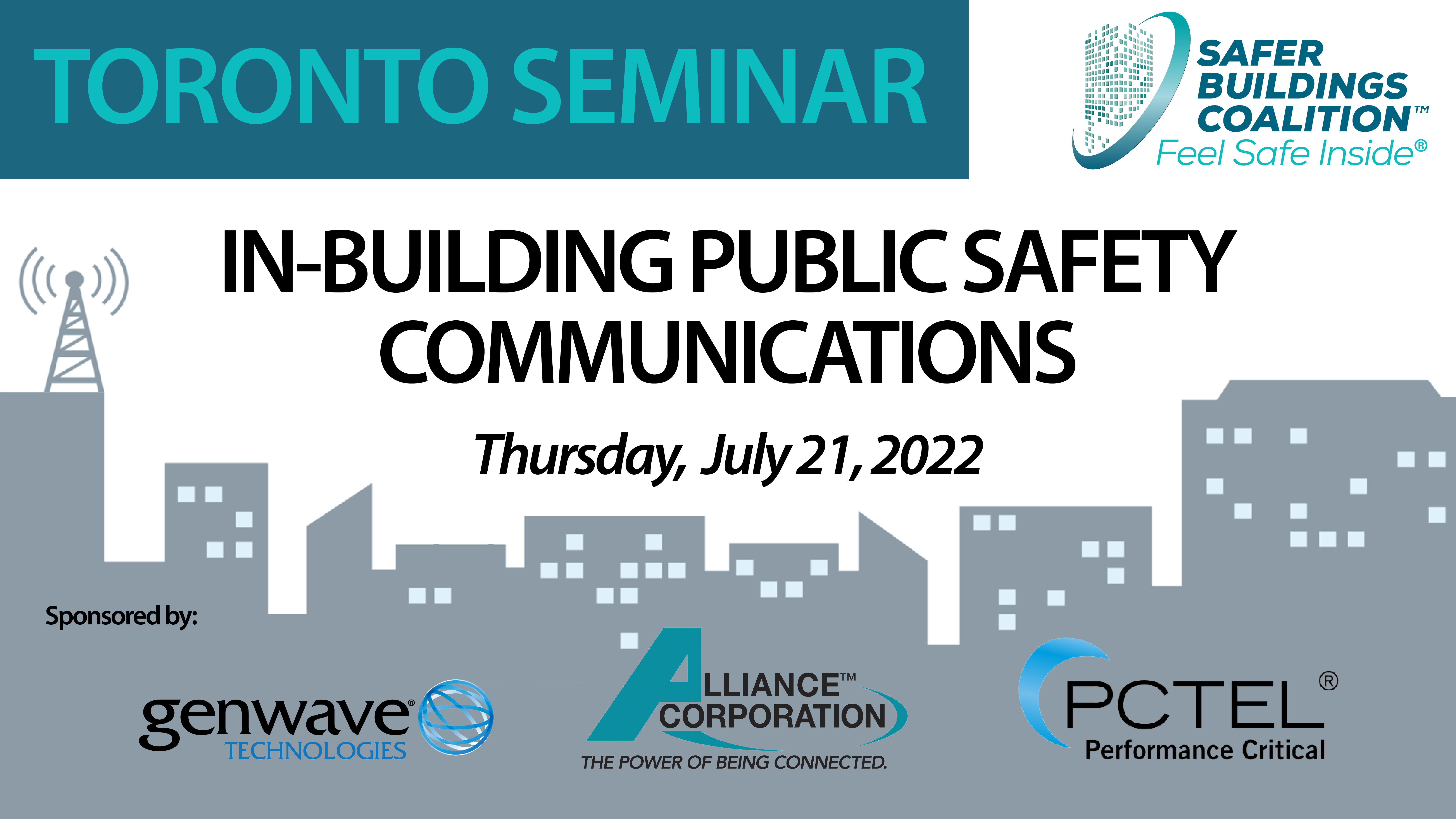 IN-BUILDING PUBLIC SAFETY COMMUNICATIONS SEMINAR – TORONTO, ON
We're excited to share that the Safer Buildings Coalition will be coming to Toronto on July 21st to lead an in-building public safety seminar! Led by SBC leadership, with subject experts from their sponsor members, this interactive seminar is based on model codes regarding in-building public safety communications systems. This is a great opportunity for yourself and others in the public safety communications industry to learn from a top industry leader.
We're proud to partner with the Safer Buildings Coalition to bring you subject experts to discuss model codes regarding in-building public safety communications systems.
UPDATED FOR THE LATEST CHANGES TO NFPA and IFC CODE
Agenda:
Emergency Responder Radio Communications Systems (ERRCS): General Requirements Review

The important role of the Frequency License Holder/Radio System Administrator

Designing to minimize noise and interference

National and Local Code Requirements for Public Safety Radio Communications

Recent and Planned Code Updates – NFPA, IFC, Local Amendments

System Testing and Best Practices

NEW – Info about NICET Certification for Designers and Technicians

NEW – FirstNet In-building discussion including requirements

Panel Discussion, Local Town Hall and Q&A
Vendor Exhibits! Lunch Provided! Most Registrations are Free!*
Government Public Safety staff register for Free

In-Building Wireless Industry attendees who are not Safer Buildings Coalition Members $195 per seat. Limit: 2 Seats Per Company
REDUCED CAPACITY TO PERMIT SOCIAL DISTANCING – DON'T DELAY!
The Details:
Thursday, July 21, 2022
9:00 AM – 2:30 PM EDT
Woodbine Banquet Hall
30 Vice Regent Blvd.
Toronto, ON M9W 7A4